Heated Floors: Everything You Need To Know
If you're thinking about adding some extra warmth to your home this winter, you may be considering heated floors. Here's everything you need to know about this popular home improvement project.
What are the benefits of heated floors
There are many benefits of heated floors, especially in the winter. Heated floors help to keep your feet warm and toasty, which is a huge relief when the temperatures outside are freezing. Additionally, heated floors can help to prevent slips and falls on icy or wet surfaces. And, last but not least, heated floors simply feel luxurious – like you're being treated to a spa-like experience in your own home.
If you're considering adding heated floors to your home, there are a few things to keep in mind. First, you'll need to purchase a floor heating system that's compatible with the type of flooring you have. Second, installation can be tricky, so it's best to hire a professional if you're not confident in your DIY skills. Finally, be prepared to pay a bit more for your energy bills, as heated floors do use more electricity than traditional heating systems.
Overall, though, the benefits of heated floors far outweigh any potential negatives. So if you're looking for a way to add a little extra warmth and luxury to your home this winter, consider investing in heated floors. You won't regret it!
How does a heated floor work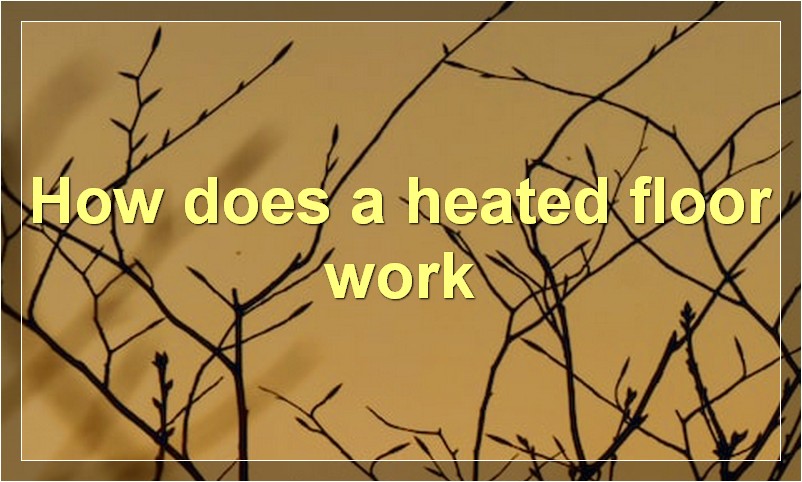 If you're looking to add a touch of luxury to your home, consider installing heated floors. Heated floors are a type of radiant floor heating, which means they provide warmth by radiating heat from the floor up. Radiant floor heating is one of the most efficient and comfortable ways to heat your home, and heated floors take it to the next level.
Heated floors use either electric coils or hot water pipes to heat the floor. Electric radiant floor heating is usually installed underneath tile, stone, or laminate floors. Hot water radiant floor heating can be used with any type of flooring, and is often used in homes with concrete slab floors.
Installing heated floors is not a DIY project – it should be done by a professional. But once they're installed, they're relatively low maintenance. And you'll enjoy the warm, cozy feeling of your feet on a heated floor all winter long!
Are heated floors expensive to install
Heated floors are not as expensive to install as one might think. The cost of the materials and installation labor is relatively low when compared to other home improvement projects. The biggest factor in the cost of heated floors is the type of flooring that is being used. Tile, stone, and concrete floors are the most expensive to heat because they conduct heat well and require more energy to maintain a comfortable temperature. Wood and laminate floors are less expensive to heat because they are poor conductors of heat and do not require as much energy to maintain a comfortable temperature.
How long do heated floors last
Heated floors are a wonderful way to keep your home warm and comfortable during the colder months. But how long do they actually last?
Most manufacturers of heated floors will give you a warranty of around 20 years. However, this doesn't mean that your floor will only last for 20 years. With proper care and maintenance, your heated floor can last for decades.
Here are a few tips to help prolong the life of your heated floor:
-Make sure to follow the manufacturer's instructions for installation and use.
-Inspect your floor regularly for any signs of wear or damage.
-Clean your floor according to the manufacturer's recommendations.
-If you notice any problems with your floor, contact a qualified technician to have it repaired.
By following these simple tips, you can enjoy the warmth of your heated floor for many years to come.
How much heat do heated floors generate
When it comes to radiant floor heating, there are a few different factors that will affect how much heat is generated. The first is the type of system that is being used. There are two main types of radiant floor systems- hydronic and electric. Hydronic systems use water to transfer heat, while electric systems use electricity. Generally speaking, hydronic systems are more efficient and will generate more heat than electric systems.
The second factor that will affect how much heat is generated is the size of the area that is being heated. The larger the area, the more heat that will be required to adequately warm the space.
Finally, the type of flooring that is being used will also play a role in how much heat is generated. Some materials, such as ceramic tile, are better conductors of heat than others and will therefore generate more heat.
In general, radiant floor heating systems generate a moderate amount of heat. Most systems are designed to maintain a comfortable temperature in the room, rather than creating an excessively hot environment. However, the exact amount of heat that is generated will vary depending on the factors mentioned above.
Are heated floors safe to use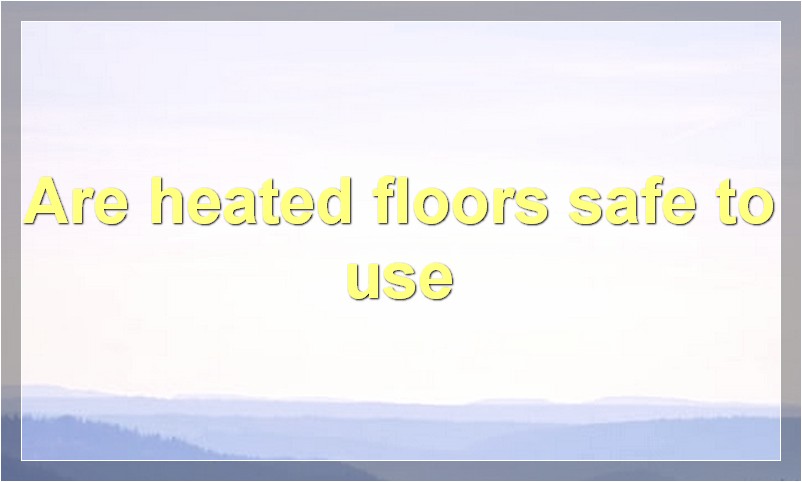 Yes, heated floors are definitely safe to use! There are many benefits to using them, and they are actually quite energy efficient. You can save money on your heating bills by using heated floors, and they are also great for your health. If you have any concerns, be sure to consult with a professional before making a decision.
Are heated floors energy efficient
Heated floors are a energy efficient way to keep your home or office warm during the colder months. By using radiant heat, heated floors evenly distribute warmth throughout a room without the use of fans or other mechanical means. Additionally, this type of heating is often more efficient than traditional forced-air systems, as it doesn't require ductwork and therefore doesn't lose heat through leaky ducts.
Can I install a heated floor myself
Heated floors are a luxurious addition to any home, and can be installed relatively easily by following these simple steps. With a few tools and some patience, you can have warm toes all winter long!
First, you'll need to purchase a floor heating system. There are many different types and styles available, so do your research to find the best one for your needs and budget. Once you have the system, follow the instructions that come with it to properly install it.
Next, you'll need to lay down the flooring material of your choice on top of the heating system. Make sure that the flooring is compatible with the system before beginning this step. Once the flooring is in place, you can then turn on the heat and enjoy your new heated floors!
What kind of flooring is best for a heated floor
There are a few things to consider when choosing the best flooring for a heated floor. The first is insulation. Heated floors need a good insulator to prevent heat loss. The second is thermal conductivity. This measures how well a material conducts heat. The third is durability. Heated floors can be tough on flooring, so it needs to be able to withstand some wear and tear.
Some of the best options for heated floors are tile, stone, and concrete. These materials are all great insulators and have high thermal conductivity. They are also very durable, so they can stand up to the heat and the traffic.
Will a heated floor make my room warmer
If you are considering adding a heated floor to your home, you may be wondering if it will actually make your room warmer. The answer is yes, a heated floor can help to increase the overall temperature of your room. However, it is important to note that a heated floor is not a substitute for a traditional heating system. In most cases, you will still need to use your furnace or heat pump to maintain a comfortable temperature in your home.