Heated Vests: The Ultimate Guide
If you're looking for a way to keep warm this winter, look no further than the heated vest. Heated vests are becoming increasingly popular as people discover their many benefits. Not only do they keep you warm, but they can also help relieve pain, improve circulation, and reduce stress.
What are the benefits of wearing a heated vest
When the weather outside is frightful, a heated vest can be a delightful way to stay warm. Electric vests come in a variety of styles and sizes, so finding one to fit your needs should be easy. And once you start wearing one, you may wonder how you ever got by without it!
There are several benefits of wearing a heated vest. First, it can help relieve pain. If you suffer from arthritis or other chronic pain conditions, a heated vest can help ease your discomfort. The heat helps to loosen up stiff muscles and joints, and can also increase blood circulation. This can lead to reduced inflammation and swelling.
Another benefit of wearing a heated vest is that it can help improve circulation. If you have poor circulation or are prone to cold hands and feet, a heated vest can help improve blood flow throughout your body. The heat dilates blood vessels and allows blood to flow more freely. This can help improve overall circulation and keep your extremities warm.
Lastly, wearing a heated vest can boost your mood and energy levels. The warmth of the vest helps to relax the body and mind, which can reduce stress and promote feelings of well-being. The increased circulation caused by the heat can also give you a mental and physical energy boost. So if you're feeling sluggish or down, slip on a heated vest and let the warmth work its magic!
How does a heated vest work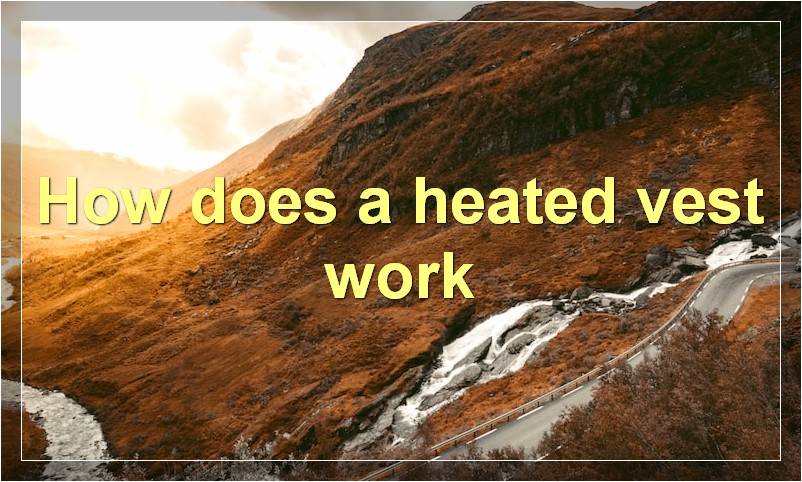 A heated vest is a garment that uses electricity to generate heat, keeping the wearer warm in cold weather. The vest consists of an outer layer (usually made of a waterproof and windproof material such as Gore-Tex), an inner layer (usually made of a insulating material such as down or fleece), and a heating element in between the two layers. The heating element is usually made of a thin, flexible material such as carbon fiber or metal foil. The vest is powered by a battery pack, which is typically worn on the belt or in a pocket.
Heated vests are often used by people who work outdoors in cold weather, such as construction workers, utility workers, and snowplow operators. They are also popular among outdoor enthusiasts, such as hunters, hikers, and skiers.
Are there any risks associated with wearing a heated vest
Yes, there are risks associated with wearing a heated vest. The most common risk is burns. If the vest is not properly insulated, the heat can escape and come into direct contact with your skin, causing a burn. Another risk is electrical shock. If the heating element comes into contact with water, it can cause an electrical shock. Finally, there is a risk of fire. If the heated vest is left on for too long or if it is not turned off properly, it can cause a fire.
How long can I wear a heated vest for
A heated vest can be worn for as long as desired, however, it is recommended to not wear the vest for more than 12 hours at a time. If you feel discomfort while wearing the heated vest, discontinue use immediately.
Can I wear a heated vest while pregnant
Yes, you can wear a heated vest while pregnant, but you should consult your doctor first. Wearing a heated vest can help alleviate some pregnancy discomforts like back pain and muscle aches. It can also help increase blood circulation, which is beneficial for both you and your baby. However, it is important to not overheat yourself, so be sure to follow the instructions on the vest and talk to your doctor about how long and how often you should use it.
Can I wear a heated vest while breastfeeding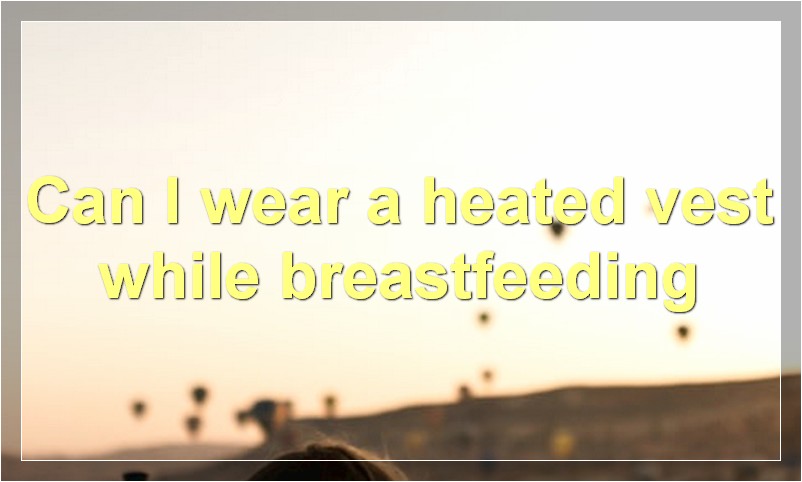 Yes, you can wear a heated vest while breastfeeding! There are a few things to keep in mind, though. First, make sure that the vest is not too hot. You don't want to overheat your baby. Second, be sure that the vest is not tight-fitting. You want to be able to nurse comfortably without the vest being too constricting. Third, if you are using an electric vest, be sure to keep the cord away from your baby. fourth, always test the temperature of the vest before putting it on. You don't want it to be too hot or too cold. fifth, be sure to take the vest off when you are done nursing. You don't want your baby to get too warm after they finish eating.
Can I wash my heated vest
Yes, you can wash your heated vest. Just be sure to use cold water and a mild detergent. Also, be sure to remove the batteries before washing.
How do I store my heated vest
Assuming you would like tips on storing a heated vest:
When not in use, your heated vest should be stored in a cool, dry place. Avoid storing it in direct sunlight or near a heat source, as this could damage the vest and shorten its lifespan. If possible, store the vest in its original packaging or in a garment bag to protect it from dust and debris.
If you need to wash your heated vest, be sure to read the care instructions carefully first. Most vests can be machine-washed on a gentle cycle, but some require hand-washing or spot-cleaning only. Never put a heated vest in the dryer; hang it up to air dry instead.
What is the warranty on a heated vest
Many heated vests come with a one-year warranty. This means that if your vest stops working within the first year, you can send it back to the company and they will either repair or replace it for you. Some companies may also offer a money-back guarantee, so if you're not happy with your purchase, you can return it for a refund.
Where can I buy a heated vest
There are many places where you can buy a heated vest. Some places include online retailers, department stores, and specialty stores. Heated vests come in a variety of materials, sizes, and colors. When choosing a heated vest, it is important to consider what you will be using it for and how often you will be wearing it.