5 Best Heated Insoles
Have you ever had cold feet during winter and wonder what to do? You should worry no more, just get yourself a high-quality heated insole and you can enjoy your hiking and mountain climbing. The heated insoles will provide your feet with warmth all day. Let us look at the 5 Best Heated Insoles that are available in the market. The following are the best insoles in 2021.
FUTESJ Foot Warmer Rechargeable Heated Insole
The FUTESJ Foot Warmer Rechargeable Heated Insole provides more safety and quality compared to all other insoles. The product is easy and simple to use, and it comes with 2 Lithium polymer batteries. It is made with carbon fiber heaters which means heat is properly circulated all over your feet. Customers will get a 30-day warranty and in case you have any questions, simply contact customer care and you will get assistance. Make sure to check the size guide when placing your order.
Dr.Warm Rechargeable Heated Insole
Dr. Warm Rechargeable Heated Insole is environment friendly because of the carbon fiber that it is made of. The battery and the circuit are protected by a steel case which you can easily carry. The temperature regulator ensures that you set the perfect heat level that suits you. The heated insole will keep you warm when performing outdoor activities such as skiing and mountain climbing. The insole can be adjusted to fit your size by cutting off the edges. It is recommended to wear the insole with loose shoes.
HotHands Insole Foot Warmers
The HotHands Insole Foot Warmers are safe, odorless, long-lasting, and disposable. They are made in the USA and they are single-use items. It is easy to use as you only remove the outer package and shake it to activate. You can use this heated insole during winter and if you love outdoor activities, you can wear them. The product can retain heat for up to 9 hours and has been approved by TSA. It is budget-friendly and will get you beat the cold.
Warmfits Battery Powered Heated Insole Foot Warmers
If you want to keep your foot warm for hours, then you need to buy the Warmfits Battery Powered Heated Insole Foot Warmers. They come with high-quality batteries which can last up to 6 hours when fully charged. The insoles can easily bend, and they are breathable, washable, and comes in unisex. You can adjust the temperatures to reach a maximum of 120 degrees Fahrenheit. The package will contain one charger, one pair of heated insoles, one velco tape bag, a user manual, and 3600 mAh batteries.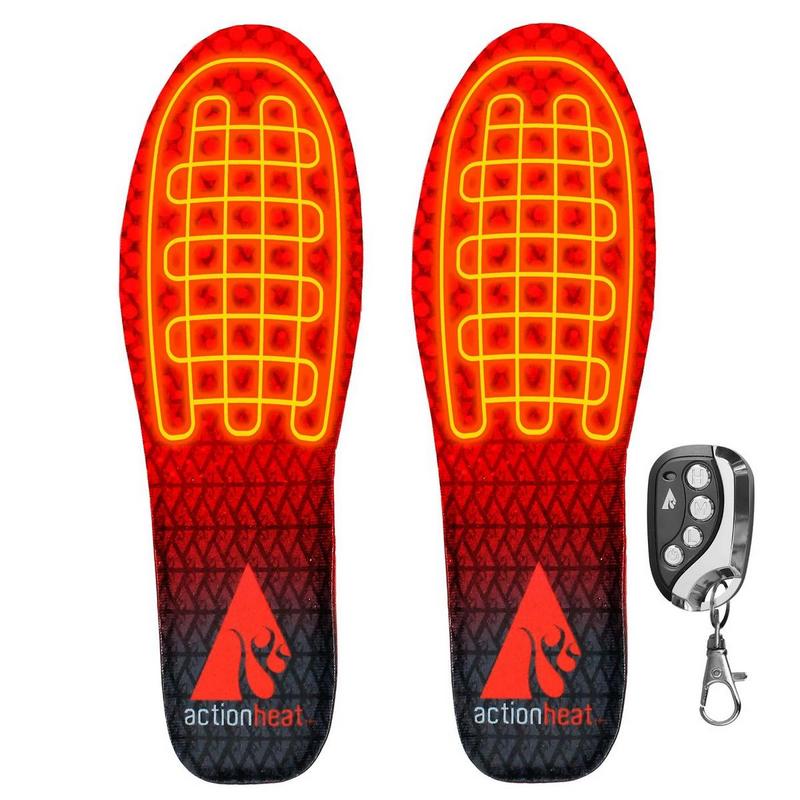 Axcuds Electric Built Heated Insoles
The Axcuds Electric Built Heated Insoles can be controlled using a smartphone app because it uses Bluetooth wireless control. It comes with three temperature controls and you can adjust them depending on the weather condition. You can trim them to fit your size and they are compatible with any shoe. It has a power adaptor that enables you to charge two insoles at the same time. In case of any questions, you can contact customer service and your issue will be resolved.