Heated Floors: Everything You Need To Know
Not only are heated floors a luxurious addition to your home, but they can also increase its value. Here's everything you need to know about heated floors.
What are heated floors
If you've ever stepped out of a shower onto a cold tile floor, you know how unpleasant it can be. Heated floors are a welcoming addition to any home, and they have many benefits beyond just providing warmth underfoot. Here are some things to consider if you're thinking about adding heated floors to your home.
Heated floors can provide uniform heat throughout a room, which is ideal for rooms that are difficult to heat evenly with other methods. This means you can say goodbye to cold spots in your bathroom, kitchen, or any other room with tile or stone floors.
Heated floors are also very energy efficient, since the heat is distributed evenly over the entire floor surface. This makes them an excellent choice for homes that are looking to reduce their energy consumption.
Finally, heated floors are simply more comfortable than non-heated floors. There's nothing like stepping out of a shower or bath onto a warm floor, and heated floors can make any room in your home more inviting.
If you're considering adding heated floors to your home, there are a few things to keep in mind. First, you'll need to choose a heating system that's right for your home and your budget. There are several different types of systems available, so doing some research beforehand is a good idea.
You'll also need to factor in the cost of installation when you're budgeting for heated floors. While the initial investment may be higher than for other types of flooring, the long-term savings on your energy bill will make heated floors a wise investment.
If you're ready to add some extra warmth and comfort to your home, heated floors may be the perfect solution. With their many benefits, they're sure to be a welcome addition to any home.
How do heated floors work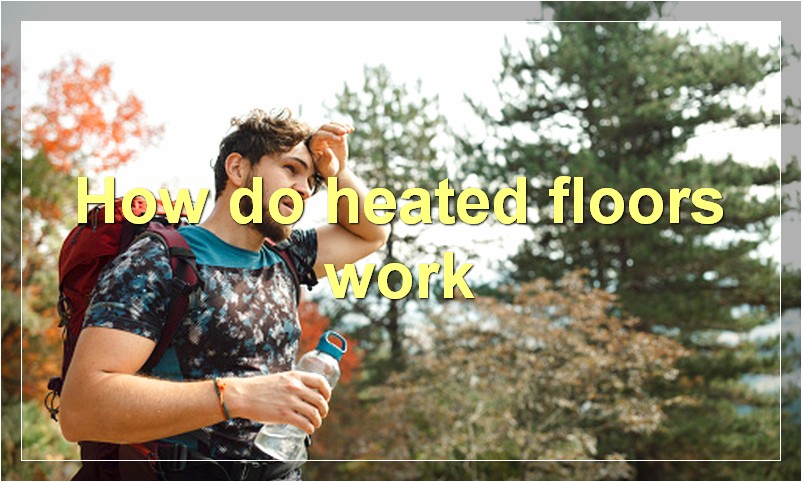 Heated floors are a great way to keep your home warm and comfortable during the colder months. Here's how they work:
Heated floors use a system of wires or coils that are buried beneath the floor surface. These wires or coils are connected to an electrical source, which provides the heat. The heat from the wires or coils then radiates up through the floor surface, providing warmth to the room.
Heated floors are a very efficient way to heat your home because the heat is evenly distributed throughout the floor surface. This means that there are no cold spots, and you won't have to worry about drafts. Heated floors are also very safe, as there is no risk of fire or electrocution.
If you're thinking about adding heated floors to your home, be sure to talk to a qualified electrician to ensure that the installation is done correctly.
Are heated floors expensive to operate
Heated floors are not expensive to operate. In fact, they can actually save you money on your energy bill. Here's how it works: when you heat your home, the heated air rises and escapes through the ceiling. This causes your furnace to work harder and longer to maintain the temperature in your home. With heated floors, the heat stays close to the floor where you need it most. This means that your furnace doesn't have to work as hard, and you can actually turn down the thermostat a few degrees and still feel just as comfortable. In the end, this can lead to significant savings on your energy bill.
Do heated floors require special installation
Heated floors require special installation because they need to be able to evenly distribute heat throughout the floor. This can be a difficult task for some homeowners, so it is best to hire a professional to do the job.
What are the benefits of heated floors
There are many benefits to installing heated floors in your home, including increased comfort, lower heating bills, and improved indoor air quality. Heated floors also help to prevent condensation and mold growth, and they can be a great way to add value to your home.
Are heated floors safe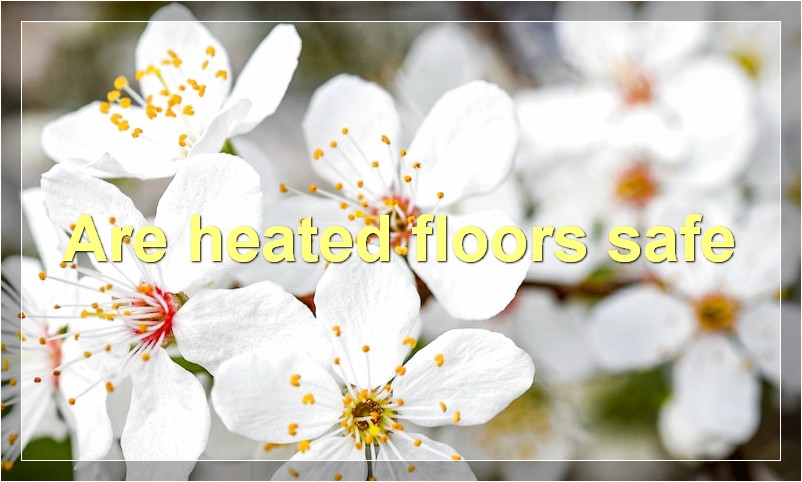 Yes, heated floors are safe. There are no reports of people being injured by them, and they're actually quite common in Europe and other parts of the world. In the United States, they're becoming more popular in new construction and remodeling projects.
Heated floors use a system of radiant heating. This means that the floor is heated by infrared rays, which heat up the floor surface without heating the air around it. Radiant heating is very efficient because it doesn't lose heat to convection (the movement of hot air).
There are different types of radiant floor heating systems. Some use electric cables or mats that are installed under the floor surface. Others use hot water (hydronic) systems, in which pipes carry hot water underneath the floor.
The most important safety consideration with heated floors is to make sure that they're not installed over electrical wiring or other potential sources of fire. Heated floors should also be equipped with a thermostat so that they can be turned off if necessary.
Do heated floors provide even heat coverage
Heated floors are a luxurious item that many people enjoy. The even heat coverage they provide is one of the main reasons why. When you have heated floors, you don't have to worry about cold spots. You can also save on energy bills because you don't have to crank up the heat as much.
How long do heated floors last
Heated floors are a luxurious addition to any home, and with proper care, they can last for many years. However, there are a few things that can shorten the lifespan of your heated floors. For example, if you have pets that like to lie on the floor, their nails can scratch and damage the flooring. Also, if you allow heavy furniture to be placed on the floor, it can dent and scratches the surface. Finally, if you do not clean and maintain your floors properly, they will become dull and discolored over time. With proper care and maintenance, your heated floors can last for many years to come.
Are there any disadvantages to heated floors
What should I consider before installing heated floors